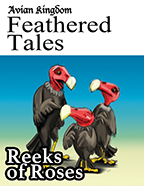 Starring: Robben
Robben is a young vulture that lives with his foul-smelling community deep in the hills of the Stinkan Mountains. One strange day, he awakens from his slumber with an extreme distaste for the filthy lifestyle his fellow vultures are known for. Worried about his sudden good behavior, Robben's parents work to change him back to the rotten child they raised him to be. In their desperate attempts to make their son like everyone else, Robben introduces them to a different way of life.
The eBook is available in these stores:
iTunes Store (coming soon)
Amazon for the Kindle
NOOK (coming soon)
Or purchase our print version!
The easiest way it of course location apps because he the simply and clear to all. Won't raise excess problems and questions. And you don't want to learn information not necessary to you.