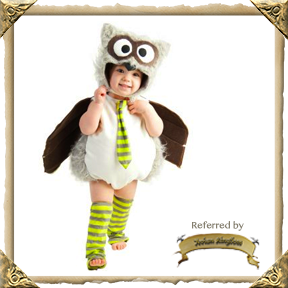 Here in Texas, we all know Halloween is right around the corner when the temperatures start to drop; others may recognize it from the costumes and spider webs that pop-up on display. If your still looking for the perfect Halloween costume for your wee ones, Avian Kingdom has a few ideas for you! One of our favorite costumes for this season is the "Wise Choice" – an Owl costume for infants and toddlers. To find this costume, click the picture for a direct link, or if your looking for something a little different, www.CostumeExpress.com has tons of great costumes.
Of course, finding the perfect costume for Halloween isn't our only concern. We've come up with an easy guide to staying safe this Halloween!
Stay Smart: Halloween Safety Tips
Have Adult Supervision
If you don't think that your children are old enough to go out on their own, make sure that you or a responsible party – like your babysitter – accompanies them on their trick-or-treating route. The little ones may still need a stroller; make sure their arms and legs are in the stroller at all times.
Safety in Numbers
If your kids are old enough to trick-or-treat without parental supervision, make sure they are in a group with their friends and that the entire group knows to look both ways before crossing the street.
Map Out Your Route
Determine a trick-or-treating route for your kids, and make sure they stick to it. The route should ideally pick areas where there are many people around and avoids short-cuts through alleys or areas that aren't well lit.
Trick-or-Treat-Friendly Homes
Make sure your kids know to only trick-or-treat at houses in which the lights are on or have some Halloween decorations. Also, let them know that it is not okay to enter someone's home; they can receive their candy at the front door.
Remain Visible
Try to help your kids choose costumes that are bright and easily seen at night. Many of the scarier costumes are pretty dark; if your child prefers one of these, be sure to get them something to stand out in the dark. Buy glow necklaces to wear or get a light-up treat bag!
Check your Treats
Always check your tricks and treats! Look for candy that may have been tampered with or is not in it's original wrapper.
Have Fun!!
Make sure your kids have tons of fun and get loads of candy!
The easiest way it of course location apps because he the simply and clear to all. Won't raise excess problems and questions. And you don't want to learn information not necessary to you.