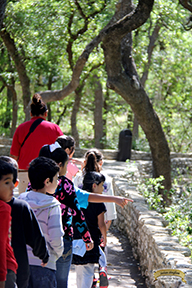 Avian Kingdom's Under Our Wing literacy program invited the entire 2nd grade of Austin's Galindo Elementary School Spelunking4Literacy at the Natural Bridge Caverns! As you can probably guess, this was no ordinary field trip…
Students were delighted as we launched our fourth children's book in both Spanish and English, and had our Award-winning Author, Emilio, read the story to them! The bat-themed book, titled Neither Night nor Day, was a huge hit! To add to the excitement, the tale's main character, Vladimira, actually made a live appearance! At the end of the field trip, our team gave each student a gift packet, filled with several activities and two copies of our newest book (Spanish & English).
What about the spelunking you ask? Each class went on the unbelievable Discovery Tour of the Natural Bridge Caverns! Their adventure into historical and beautiful caverns created memories they will treasure for a lifetime.
As a Title I school, Galindo Elementary School's classes do not often get opportunities like this. Their 2nd grade learned about caverns, stalactites, and many other funny words they had never even heard before! Not only did those students have a blast, they experienced something entirely new and we are so happy to have given them the opportunity! Special thanks to the Natural Bridge Caverns and our sponsors for making this an unforgettable experience for our team, and most importantly, the teachers and students of Galindo Elementary School!
The easiest way it of course location apps because he the simply and clear to all. Won't raise excess problems and questions. And you don't want to learn information not necessary to you.