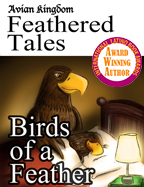 Starring: Captain Eagle & Jake
Jake the eaglet is a top student at flight school. He flies in the Honor Squad, does not eat worms in class and always does his homework. After all, he is Captain Eagle's son, and the community elders always remind him to live up to his father's reputation. However, when his father leaves to visit Grandfeather, Jake finally finds his opportunity for mischief. At the end of the day, lost and lonely, the little eaglet learns the importance of a father's unconditional love.
The eBook is available in these stores:
Or purchase our print version!
The easiest way it of course location apps because he the simply and clear to all. Won't raise excess problems and questions. And you don't want to learn information not necessary to you.