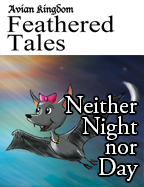 Starring: Vladimira
Vladimira is an inquisitive bat living with her parents, Countess Anya and Count Vlad, and Grandparents, Emily and Herman. She is nearly seven weeks old, and just as every young bat before her, will soon experience the Rite of the Seven weeks of Life. The Counts are a nurturing colony and show concern for Vladimira's first solo flight from the cave. Like her father before her though, Vladimira is curious about a mysterious phenomenon known as the magic hour, and hopes to catch a glimpse of its beauty when it is neither night nor day.
The eBook is available in these stores:
Or purchase our print version!
The easiest way it of course location apps because he the simply and clear to all. Won't raise excess problems and questions. And you don't want to learn information not necessary to you.