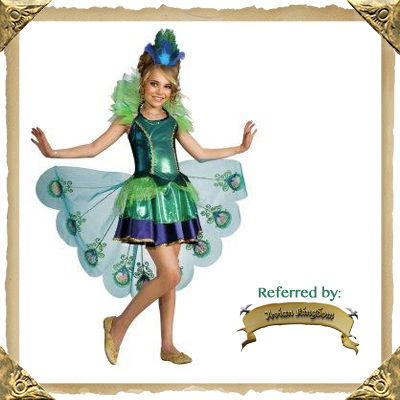 These days it can be difficult to shop for age-appropriate costumes for your little princesses, but we found a great, original costume at CostumeExpress.com for the girls tired of being Snow White, Cinderella, and other Disney princesses. Click the image for a direct link to this Pretty Little Peacock Halloween costume.
Even more difficult than finding age-appropriate Halloween costumes can be discussing age-appropriate make-up for your young ladies. While Halloween can be a great time to let these ladies go all-out with the lipstick and blush, it can also be a great time to answer the question, "Mom, why can't I wear makeup?!"
Wanting to wear makeup often represents an adolescent girl's eagerness to become a 'grown-up,' but can certainly bring stress to any loving parent. Even if this isn't an issue for you yet, it could become one in the near future, so we've come up with a few guidelines for you for when that day comes.
The Makeup Debate
Start Slow
By 5th grade, many girls are wearing makeup. Make sure that your daughter learns proper techniques and uses makeup appropriately for her age. Carol Tuttle, author of Dressing Your Truth: Discover Your Personal Beauty Profile, recommends starting with lip gloss and light makeup between ages 10 – 12; progressing to foundation between ages 13 -14; blush at ages 15 – 17; and eyeliner and eye shadows by age 18.
Much too Much
If you notice your daughter is wearing too much makeup – find out why. It's not uncommon for such a line of questioning, comments, or suggestions to bring about defensiveness in a young lady. Take her to a nice department store makeup counter and ask the makeup artist to do her makeup in a natural, age-appropriate way. This could be a great bonding and educational experience.
Pick Your Battles
Though seeing your daughter wearing too much makeup – or even wearing makeup at all – can be frightening for a parent, remember that sometimes there are more important battles to be won. Taking a firm stance on boys, getting homework done, and other responsibilities may be more important.
The easiest way it of course location apps because he the simply and clear to all. Won't raise excess problems and questions. And you don't want to learn information not necessary to you.