The time-honored holiday tradition of hanging Christmas stockings from the mantelpiece may date back as far as the 4th century CE, and they've clearly been very popular ever since. Usually, stocking stuffers are smaller gifts that tend to be secondary to the main gifts under the Christmas tree. But with any number of these fun, unique, and useful gifts, don't be surprised if your humble stocking stuffers turn out to be a big hit when it's time to open presents. We've put together a list of our top ten favorite stocking stuffers this season to make your stocking-stuffing especially easy. An added bonus is that they are all under $10 and for the kiddos!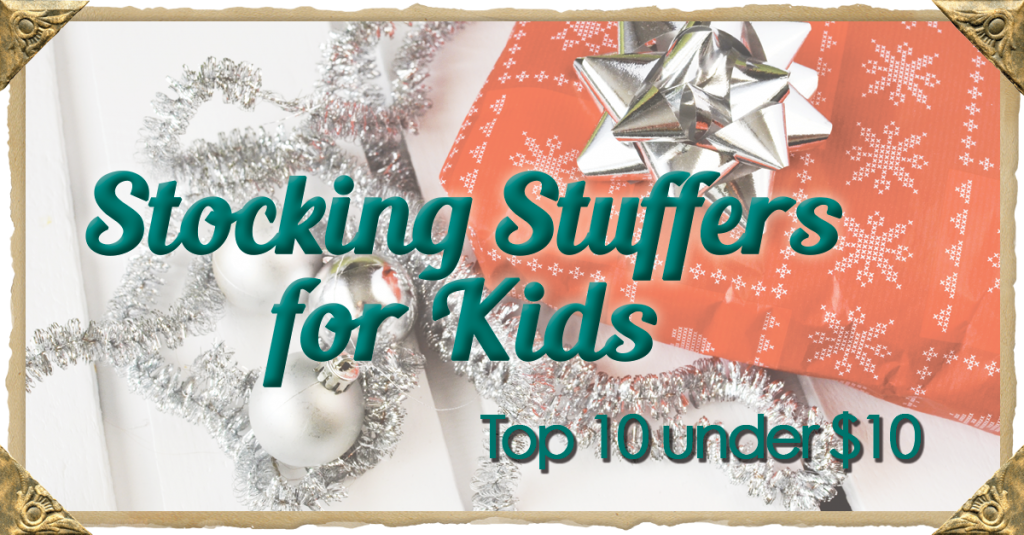 Stocking Stuffers Gift List
Temporary animal hand tattoos make for instant fun for kids. With 24 different animal tattoos in assorted designs and colors, one or two packs can supply several stockings and provide hours of creativity and fun for kids of all ages.
Bacon makes everything better, even boo-boos! Each novelty tin contains fifteen bacon-backed adhesive bandages, plus a fun bonus trinket.
Give lace-up shoes a flash of flair! These LED shoelaces light up with three settings: constant glow, blink, and slow flash. Each set of LED shoelaces comes with two laces of the same color. Buy two or more at under $10 each.
For siblings who actually like each other… In case listening to music together isn't enough, now your kids can furtively talk to each other from across the house and not, you know, shout all the time. Give yourself the gift peace and quiet for the mere price of $4.50 per child.
Officially the world's best stocking stuffer ever! Now your friends and family can frolic in fluffy snow whenever they'd like with this Instant Super Snow! Create magical snow by just adding water and stirring! The more you stir, the more it shines and sparkles. It expands to more than 100 times its size and lasts for weeks! Reuse it over and over again. Christmas in July here we come! It's the perfect gift for those who are dreaming of a white Christmas but live in the wrong climate.
Books make a great gift that won't soon be forgotten. Read along with your child or grandchild on Christmas day and for years to come. These beautifully written and illustrated books are a gift to treasure.
Now, no stocking is ever complete without candies and chocolates. We've found a few interesting treats this year, and even threw in an old classic.
In 1767, Terry's of York first crafted their fine European confections under the reign of King George III. As monarchs changed, so too did Terry's Chocolate, creating the original Whack & Unwrap Chocolate Orange in 1932. The Terry's Chocolate Orange, 6.17 oz, is a classic treat with a delicious flavor. This Terry's Milk Chocolate is infused with a tasty orange flavor. You can find these at Wal-Mart, so no need to order online if your not afraid of the holiday rush.
The spicy taste of Tabasco hot sauce is waiting for you inside each of these wedges of dark chocolate. The great thing about this is that dark chocolate is actually good for you, and the Tabasco sauce itself is just made from red peppers mostly so this can actually be a healthy way to have chocolate.
On Christmas morning, combine your family's favorite breakfast food with their favorite holiday candy; bacon candy canes make an excellent stocking stuffer that will have everyone grinning.
Get kids (and adults!) excited about space and science with freeze dried ice cream in three different flavors. Astronaut Ice Cream makes a great stocking stuffer for kids, space geeks, and anyone who has ever dreamed of being an astronaut when they grow up.
The easiest way it of course location apps because he the simply and clear to all. Won't raise excess problems and questions. And you don't want to learn information not necessary to you.