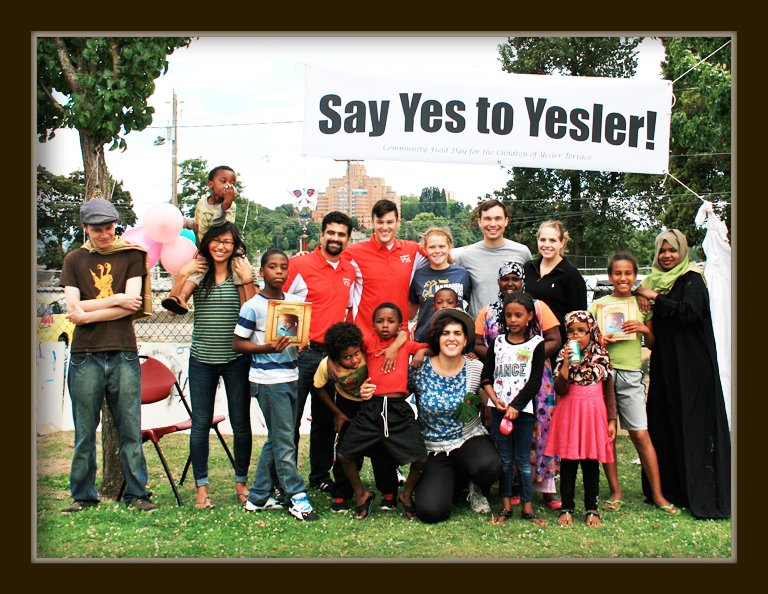 FOR IMMEDIATE RELEASE
A day of bilingual books, painting, and Big Brained Superheroes for the Yesler Kids
Community throws field day for soon-to-be displaced children of Yesler Terrace
SEATTLE, WA – July 18, 2014: The residents of Yesler Terrace, Babylonia Aivaz, Avian Kingdom, and the greater Seattle community are throwing a field day-style event called "Say Yes to Yesler" for the children of Yesler Terrace, Seattle's oldest housing project. The land is being redeveloped and the residents, including hundreds of children, will have to relocate. The purpose of this event is to make the Yesler kids feel valued at a time when their homes are being razed and their friends are moving away.
Several organizations have jumped at the chance to contribute. The Big Brained Superheroes Club will leverage their real-life superpowers to conduct a digital logic exploration. Art for Animals Sake (AFAS) is getting messy with a painting activity. Avian Kingdom, an award-winning bilingual children's series, is holding a book giveaway, presenting readings in both English and Spanish, and hosting a meet-and-greet with their costumed characters. Their goals to promote literacy, family values, and environmental stewardship resonated with event sponsors like the auto experts at Firestone, environmental protectors, PollutionTech; Houston's go-to diamond ring jeweler, Shaftel Diamond Co., and Mega TV, America's largest Hispanic media company that lands in over 5 million living rooms. The perfect party atmosphere creators, The Avalon Music; and Green Rising Marketing, an agency that helps evolving brands find their voice, also showed their support. Loyal volunteer partner, c.HAIR.i.TEE., rounds out the group of sponsors.
Yesler Terrace, known for its unique diversity, is home to nine different language groups, and was revolutionary at the time it was built in 1940. Already in the process of redevelopment, the next era for this neighborhood will bring mixed-use, sustainable buildings with retail, office, commercial, and market-rate housing spaces. The "Say Yes to Yesler" event aims to draw awareness to the issues of land-use that surround this plan.
Above all, everybody is coming together to make a fun, memory-filled day for the children of the Yesler Terrace housing project to take with them as they move forward with their lives.
Event Details
When: July 19th 12:00 PM – 3:00 PM
Where: Yesler Community Center
The easiest way it of course location apps because he the simply and clear to all. Won't raise excess problems and questions. And you don't want to learn information not necessary to you.