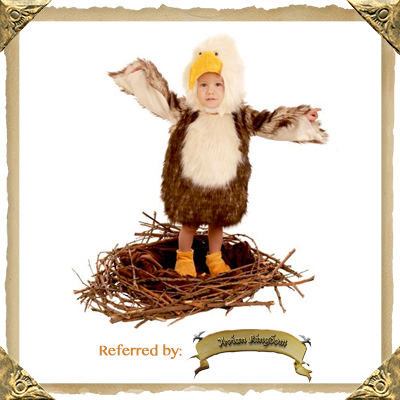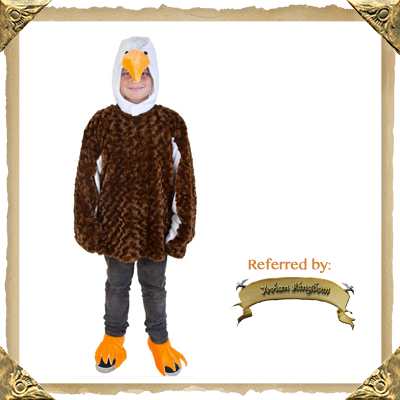 Halloween is associated with many traditions: pumpkin carving, dressing up in costume, trick-or-treating, candy-eating, and, of course, watching scary movies.
We're trying to make the "dressing up" custom of Halloween a little easier for you by finding some great costumes. Avian Kingdom loves both children and birds, so we've found a couple of Eagle costumes for your toddlers and kids. Click either image for a direct link to purchase your favorite costume.
Now that we've solved the unique-costume-crisis for you, we have put together a list of scary movies that hopefully won't cause your wee ones to have any nightmares this Halloween season.
Best Kid-Friendly Horror Movies
Watch at your own risk!
Hocus Pocus
This PG film boasts a talking cat, 3 witches, a book with an eyeball… Go along for the ride as two teenagers attempt to save the souls of the children of Salem, Massachusetts from the recently resurrected Sanderson sisters.
Gremlins
This PG-rated film has whimsy with a dash of malice, good-natured fun laced with dark comedy, and is by far one of the most important creature features in the last fifty years.
The Monster Squad
The story is simple and fun and appeales to every kid who ever loved horror: a group of monster fans, self dubbed The Monster Squad, discover that monsters are real and it's up to them to save their town from them.
Under Wraps
This made-for-TV film has been released on DVD, lucky for you! Marshall and his friends break into the basement of a dead man's house and discover a mummy. They decide to keep him, name him Harold, and soon find themselves on a quest to put him back in his sarcophagus by midnight on Halloween.
Coraline
This animated film is a neo-Grimm's Fairy Tale; a modern age twisted fable that has a life lesson at its heart, just hidden beneath the button-eyed pretenders and mouse circuses.
Monster House
A beautifully animated film that features a group of sarcastic kids setting off on an adventure, trying to conquer the unconquerable – a haunted house.
ParaNorman
Great for the whole family; it's stop-motion animation tells the tale of a boy named Norman who can see the dead. It is also full of cultural satire, edgy characters and smart adult humor.
Ghostbusters
Be honest, you knew this was coming! It is timeless. We get a truly frightening villain in Gozer, a film full of bright and energetic ghosts, and a Godzilla sized Stay Puft Marshmallow Man.
The easiest way it of course location apps because he the simply and clear to all. Won't raise excess problems and questions. And you don't want to learn information not necessary to you.